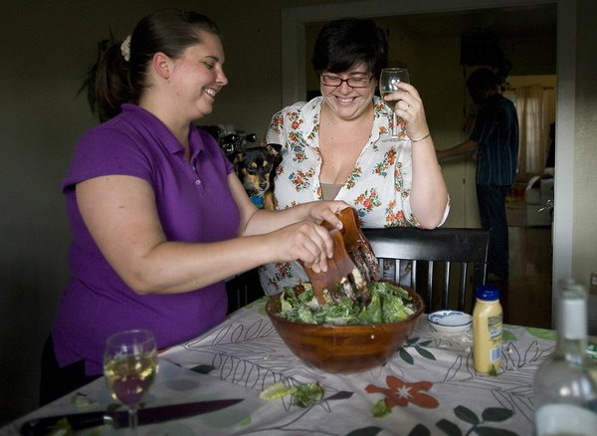 I think I'm going to start adding news to Friday's theme, along with Travel and New York…
I wanted to share that my bud Morgan and her wife, Lizen, (who's gorgeous wedding we went to last month) were recently featured in an article for the Columbian.
The article is about how Vancouver WA is noticing a boom of same-sex couples, many of them being transplants from Portland.
"Where we lived in southeast Portland, we were the only same-sex couple on the street," [Lizen] Rosenlund said. "When we moved here, we met a lesbian couple across the street that adopted a baby and another lesbian couple next door."
…
The state's domestic partnership laws prompt some same-sex couples to choose to live in Vancouver over Portland, said Corey Eubanks, a local real estate agent and planning committee member for Vancouver's Saturday in the Park Pride festival.
Props to Morgan, Lizen and their pup, Giuseppe; you're now ce-web-rities! Read the entire article here!