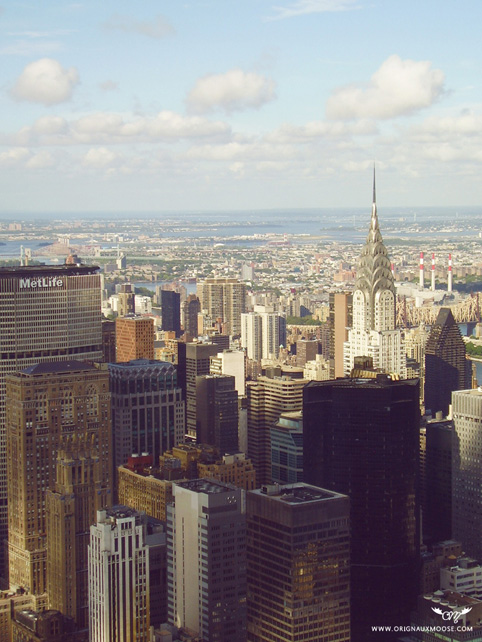 This weekend was just as busy and fun as I thought it would be!
Friday
Immediately after I got off of work I met up with the parents and Jack and went to the top of the Empire State Building. This was both Jack and my first time up there, so, aside from the (numerous) lines, it was very very cool! Dinner at Genesis and then I passed out!
Saturday
Brunch at Bondi Road (our NY crew's usual brunch place, but my parents had never been) and then it was on to DUMBO. Last time I took the parents out to DUMBO it was cold, uncomfortable and unpleasant, so I wanted to take them back knowing my way around better and knowing things would be more lively in the summer. Once we were back in the city we roamed around SoHo for a bit and met back up with Jack. Then we traveled back into Brooklyn for dinner; this time to Williamsburg. Dinner at Fada. We found an amazing church festival near the restaurant. They had rides and games and music and everything!
Sunday
I awoke extremely early (6:15!) to meet my dad so we could walk the island! It took a little while to get all the way to the Northern point, having to deal with a bus crosstown and then the 1 uptown. It was a tougher walk than I thought and feet began to give out on me around 34th St. Thankfully, I had my Dad there to pull me through to the end and we made it! Mom and Jack joined us in SoHo and we had a late brunch at Aurora. We further wondered SoHo, then uptown for a shower and quick nap (which at this point I desperatly needed!). After getting a little dolled up we all headed down to Chelsea / Meatpacking District, checked out the newer parts of the High Line, wonderful Thai for dinner and coffee at Doma.
For more picture from the weekend, check out our Flickr feed. Mom and Dad are currently on a day-trip out to the Hamptons and I'm about to head out for Monday Night Bingo. Talk to you soon!