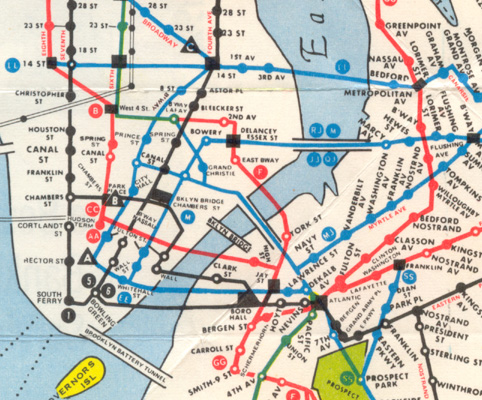 As the V and W train routes are phased out AM New York takes a look back at the numerous changes and reorganization of routes.
Changing demographics, budget issues and big construction jobs force planners to perpetually tinker with the subway routes, said Lunden, an MTA veteran. The train names have always been a work in progress. Back in the 1930s, NYC Transit first start assigning letters to the lines, picking roughly in alphabetical order. Local routes were given double letters and an express a single one, like the "A" and "AA" running along Eighth Avenue. The numbers were first added in the 1940s, but it took 20 years to fully phase them in, Lunden said.
At its peak in 1967, the MTA was home to 34 different routes, including such confusing lines as the MJ, QJ and six different "SS" shuttles.
I thought these were especially interesting tid-bits:
Recycling: Letters have sometimes been recycled. The K was introduced twice into the system, only to bow out. The T was used before, and could come back for the Second Avenue Subway.
Diamonds: Were used for some express routes during rush hour, but by 2004 no one understood them anymore and they were eliminated except on the No. 6 and 7 lines.
I, O: Looks too much like numbers to use.
P, U, Y: Also no-no's, as they sound like words.
X: Has been used as a placeholder for lines under development. Was considered for a line from Sixth Avenue to the World Trade Center, but the route never surfaced.
Via Second Ave. Sagas | Image via NYC Subway Historical Maps